---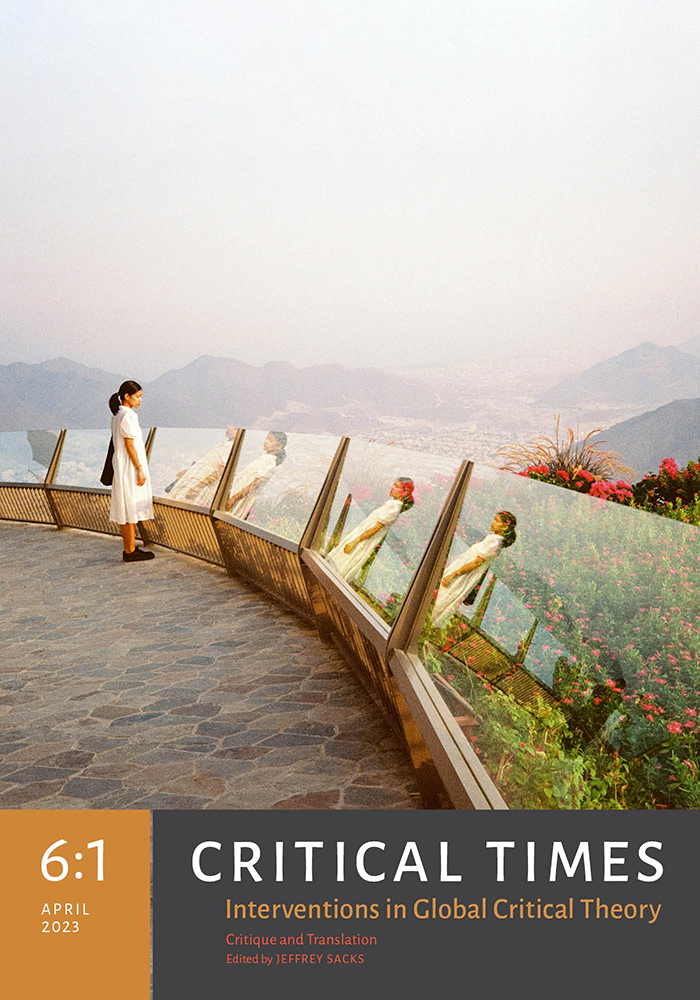 ---
---
---
Now available online through Duke University Press
How might translation complicate notions of critique as the provenance of an autonomous subject? This special issue of Critical Times rethinks critique as a material and social practice, as "welcoming in place, hosting in language, and hosting in situation." The issue traverses genre and media as contributors re-examine the role of language in Frantz Fanon; trace a Marxian citation as it winds its way from Edward Said to Gayatri Spivak; track the inheritances and affordances of critique through the work of Husayn Muruwwa, Rabih Mroué, and Mona Hatoum; as well as read for silences in the colonial archives of Assia Djebar and Adania Shibli to explore what resists translation. The issue concludes with poetry and a photo series from the diasporic Sa Tahanan Collective, whose work and practice enacts a home-making in translation.

This issue of Critical Times is guest edited by Jeffrey Sacks.
---
---
"In the Midst" conveys the difficulties of writing during critical times, and registers the importance of writing from within concrete, unfolding situations, of staying with the troubles of the moment, of thinking from particular grounds, and of allowing for responsive, experimental, and tentative interventions.

---
Critical Times, a project of the International Consortium of Critical Theory Programs, is a peer reviewed open access journal published by Duke University Press with the aim of foregrounding encounters between canonical critical theory and various traditions of critique emerging from other historical legacies, seeking to highlight the multiple forms that critical thought takes today.

---
Critical Times seeks to reflect on and facilitate the work of transnational intellectual networks that draw upon critical theory and political practice across various world regions. Calling into question hemispheric epistemologies in order to revitalize left critical thought for these times, the journal publishes essays, interviews, dialogues, dispatches, visual art, and various platforms for critical reflection, engaging with social and political theory, literature, philosophy, art criticism, and other fields within the humanities and social sciences.