---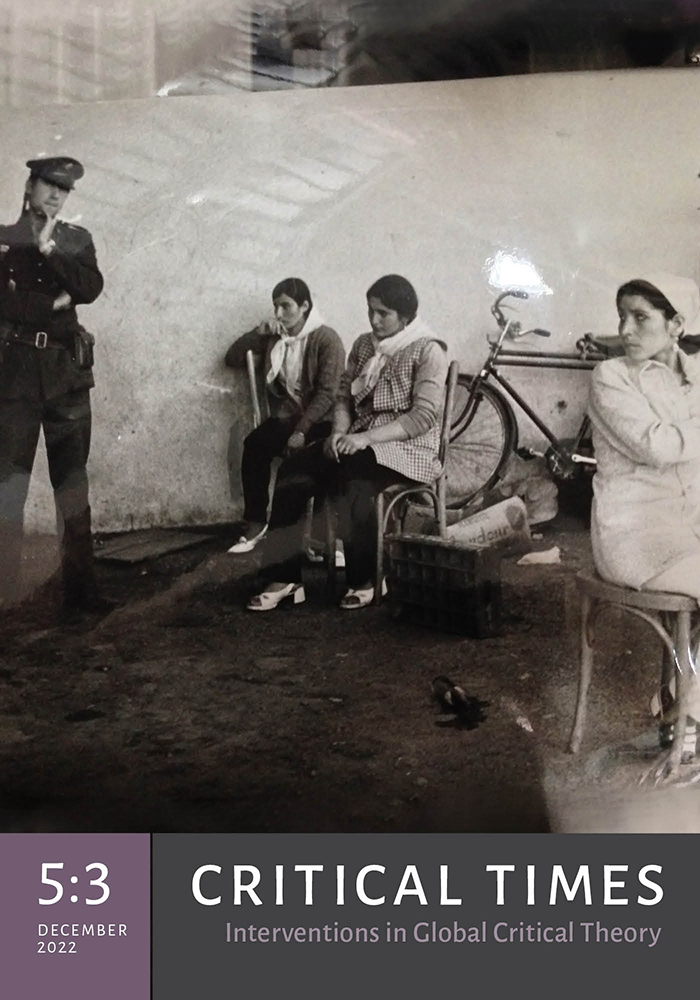 ---
---
---
Now available online through Duke University Press
This issue of Critical Times features a special section on contemporary strike actions as they draw on and depart from the longer inheritance of political strikes and of proletarian or revolutionary general strikes: from recent historical instances of the feminist strike, to the South African practice of the road blockage, to Palestinian hunger strikes, both individual and collective. Contributions to the issue also include an analysis of the concept of ressentiment as a mode of regression in the face of crisis, a new genealogy that uncovers a politics of abolition at the heart of the general strike, and a reading of the Mapuche hunger strikes, which unsettle the apparatus of necropolitical sovereignty. The issue concludes with a "strike image archive 'from below,'" which assembles images from two 1970s workers' strikes in Lebanon while reflecting on the limitations and possibilities of such images.
---
---
"In the Midst" conveys the difficulties of writing during critical times, and registers the importance of writing from within concrete, unfolding situations, of staying with the troubles of the moment, of thinking from particular grounds, and of allowing for responsive, experimental, and tentative interventions.

---
Critical Times, a project of the International Consortium of Critical Theory Programs, is a peer reviewed open access journal published by Duke University Press with the aim of foregrounding encounters between canonical critical theory and various traditions of critique emerging from other historical legacies, seeking to highlight the multiple forms that critical thought takes today.

---
Critical Times seeks to reflect on and facilitate the work of transnational intellectual networks that draw upon critical theory and political practice across various world regions. Calling into question hemispheric epistemologies in order to revitalize left critical thought for these times, the journal publishes essays, interviews, dialogues, dispatches, visual art, and various platforms for critical reflection, engaging with social and political theory, literature, philosophy, art criticism, and other fields within the humanities and social sciences.