---
---
---
Walter Benjamin's 1921 essay "Toward the Critique of Violence" has been newly translated by Julia Ng and Peter Fenves (forthcoming Stanford University Press), providing a new opportunity to consider its language, argument, and contemporary relevance to the problem of legal violence. This first thematic issue published by Critical Times, titled "What Is the Critique of Violence Now?" reflects the collective work of a group of international scholars who met to discuss the text paragraph by paragraph in Rijeka, Croatia, in the summer of 2018, and who sought to combine close readings with a general reflection on the political relevance of the essay for today's political world.
The concept of legal violence proved central to each of these considerations, and the task assigned to each other was to discern, if possible, the echoes of contemporary legal violence in the account that Benjamin gave nearly one hundred years ago. Although the essays in this collection range from etymological to legal and political analysis, they each seek to think through Benjamin's essay in light of new modes of reading and from various geo-political conditions. For instance, some essays consider the administrative forms of violence characteristic of border politics, the use of the law to sanitize and execute forms of violence, and the continuing problem of treating law as if it were the antithesis of pre- or extra-legal violence. When and if the laws of a regime are instruments of violence, then violence is hardly external to law, but becomes the form of violence generally recognized as justifiable. These essays work through the language and movement of Benjamin's text as it resonates with the present, considering the possibility of nonviolence as civil technique and as a potential of language that exceeds instrumental and informational frameworks.
The artwork by Palestinian visual artist Sharif Waked gives architectural form to the force of legal violence.
 This issue of Critical Times is guest edited by Petar Bojanić, Peter Fenves, and Michelle Ty.
---
---
---
---
Peter Fenves
---
Massimo Palma
---
Julia Ng
---
Marc Crépon
Translated by Micol Bez
---
Dario Gentili
---
---
---
---
---
Petar Bojanić
Translated by EDWARD ÐJORDEVIĆ
---
---
---
---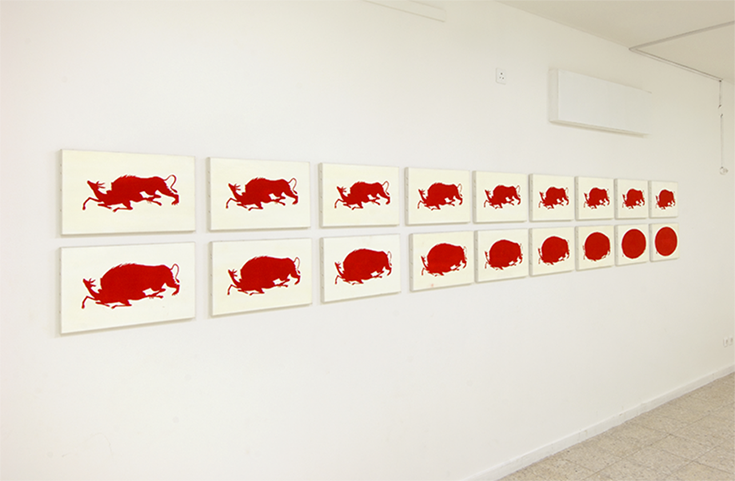 "Jericho First" no. 4, 2006. In the exhibition Sharif Waked–Mini Retrospective, 2007, Umm el-Fahem Art Gallery. Photos: Yakis Kidron.
---