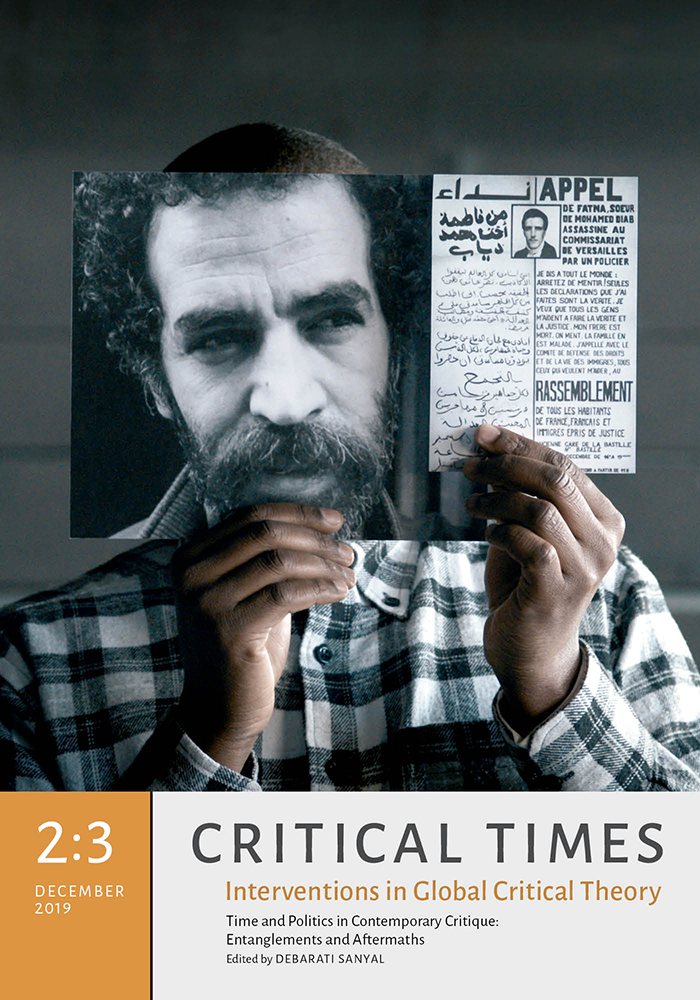 ---
---
---
This issue examines the entanglements and aftermaths of colonialism, Apartheid, and genocide in our moment of forced displacements, techno-surveillance, and global authoritarian ethno-nationalism.  The essays connect seemingly disparate legacies of racialized violence; they negotiate continuities and discontinuities between events and aftermaths; and they offer various openings for imagining the future, the un-thought, and the not-yet-imagined. 
Contributors to the issue include Vilashini Cooppan, Paul Gilroy, David Theo Goldberg, Marianne Hirsch, and Debarati Sanyal. Their essays examine the roles of both memory and critique in our understanding of political time. They ask how the legacies of slavery, empire, colonial extraction, and genocide continue to shape contemporary political contexts, and they turn to a range of historical and artistic archives in order to remember and imagine otherwise. In "Rhythm in the Force of Forces," for example, Gilroy turns to anti-Apartheid jazz and Black Atlantic music as sites of resistance for our current moment. In his essay "Coding Time," Goldberg analyses the conjunction of technology, security, and racism and develops an algorithmic ontology that parts ways with the posthuman. And in "Stateless Figures," Hirsch finds possibilities for a counter-monumental form of memory in the work of contemporary women artists responding to the experience of statelessness.
A dispatch from Sudan by Elsadig Elsheik considers the aftermath of the popular uprising that deposed Omar Al-Bashir in 2018. Artistic interventions by Bouchra Khalili and Jane Taylor offer further, compelling perspectives on the questions addressed throughout the issue: the confluence of times, the task of critique, and the commitment to justice.
This issue of Critical Times is guest edited by Debarati Sanyal.
---
---
---
Debarati Sanyal
---
David Theo Goldberg
---
Paul Gilroy
---
Vilashini Cooppan
---
Marianne Hirsch
---
Debarati Sanyal
---
---
---
---
---
---
Elsadig Elsheikh
---
---
---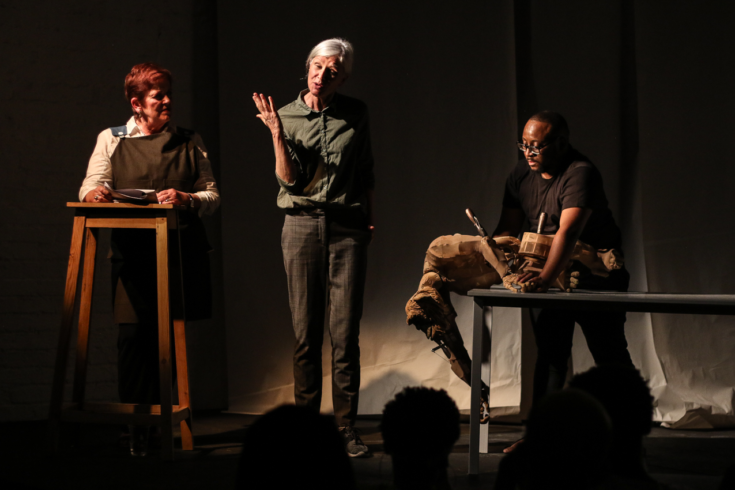 Jane Taylor, Terry Norton, and Tony Miyambo. Centre for the Less Good Idea, Johannesburg, Season Four, October 2018.
---
Bouchra Khalili
---